Karen's Mission:
To Promote Greater Public Access to Preventive Oral Hygiene Care.
Karen has a lot of understanding and experience with seniors who have Dementia through her in-laws, that have different types of Dementia and are currently living in senior communities. She is very aware of the needs of residents in long-term and retirement homes and is passionate about providing excellent oral care to help seniors maintain their oral health.
We come to you when you need us
We bring dental hygiene services to you or your loved one's location.
We provide services: bedside, in a wheelchair, at home, or at long term care facilities
Good dental health has officially been linked to having a better ability to manage Covid19.
A study at McGill University identified a strong link between periodontitis (a common form of gum disease) and severe Covid 19 outcomes. People with periodontitis were found to be 3.5 times more likely to require hospitalization, 4.5 times more likely to require a ventilator, and 8.8 times more likely to die from Covid 19.
Poor Dental Hygiene can Increase Risks in COVID-19,
As well as Increase Risk in Areas such as:
Heart & stroke concerns
Diabetes
Dry Mouth
Other Chronic Conditions
See how our dental hygiene services consistently highlight Karen's expertise and care have delivered outstanding results, leaving people with healthier, happier smiles.
My elderly aunt, who has dementia, lives in long-term care. Karen provides exceptional service - she is professional, friendly, and makes my aunt feel comfortable.
Thank you very much!
Karen's compassion for my husband with dementia was very comforting. She had a calming and reassuring manner that helped him relax and made him willing to get his teeth cleaned. Despite his reluctance in recent years, Karen did a great job with his cleaning.
I am so grateful for Karen's help with my mom's oral care. She has been providing teeth cleanings for almost two years now. Thanks to her, my mom has been able to maintain her teeth and eat her food without any issues.
I truly believe that my mom's teeth would not be in as good a condition as they are now without Karen's assistance.
Compassionate Dental Care! Always on the MOVE!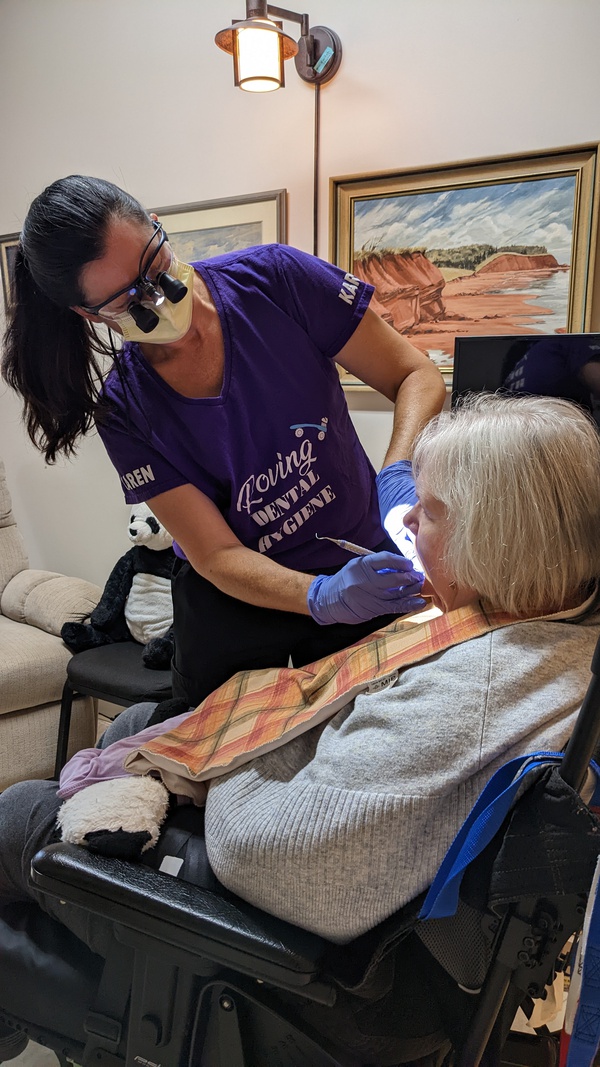 How does aging affect oral care?
Oral health is a significant factor affecting senior's quality of life, overall health, and wellbeing. Tooth loss, tooth decay, gum disease, dry mouth, and oral cancers are commonly experienced by older people.
Often seniors lack the dexterity to brush their own teeth thoroughly.
Dental hygienists visiting the home on a routine basis can significantly reduce bacteria forming on teeth called plaque.
Plaque is bacteria that causes cavities, broken teeth, pain, and infections.
Plaque inhaled when coughing can cause pneumonia.
All of this affects eating, drinking, and overall wellbeing.
If a higher level of care is required we can refer to a local dentist.